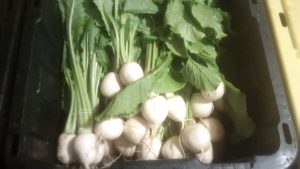 Exciting news:
We're going to be attending the WS Community Farmers' Market in Prince George tomorrow! It's a new one for us, so we're pretty stoked. We've got a truckload of vegetables just picked and washed this morning and a few early flowers and of course our very stylish reusable shopping bags in case folks forget their own.
The details:   8:30am – 2:00pm in the parking lot outside the Pine Center Mall. To check it out on facebook, go to facebook.com/wscommunityfarmersmarket
Happy early Canada Day!