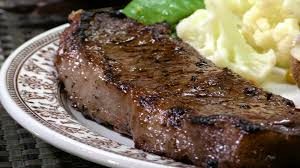 There's nothing more mouth-watering than a barbequed steak! Felicity Farm beef is grassfed on our farm from start to delicious finish.
For prices and purchasing info click here: 2023 Beef Order Form
Felicity Farm cattle are raised in a low-stress environment on pasture their entire lives, and are fed only fresh grass in the summertime and locally grown hay through the winter.  They never receive any antibiotics or artificial growth hormones. Their diet contains all the vitamins, minerals and fresh water they need for a healthy and happy life.
Here on Felicity Farm
we raise Speckled Park beef cattle. Speckled Park is a unique Canadian breed that was started in Saskatchewan in the 1960s by some farmers crossing Aberdeen Angus with Teeswater Shorthorn and selecting for winter hardiness, good fertility and meat yield as well as the distinctive speckled pattern. For the past couple of decades, Speckled Park animals have featured prominently in the Calgary Stampede Quality Beef Competition as well as in other beef competitions.  Here in Vanderhoof the  Speckled Park have impressed the locals at our 4H competitions.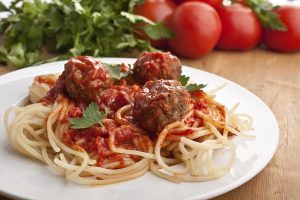 We find that Speckled Park is a solid, dependable breed suitable for our climate and easy to finish on grass; it's a happy bonus that they're fun to look at! We have a  troop of non-registered females and a very handsome purebred (but unregistered) bull. For more information on the Speckled Park breed, check out the website http://www.canadianspecklepark.ca
We work closely with our knowledgeable and experienced local butcher to achieve the best quality product. We insist that our beef is dry aged as long as possible which not only improves the tenderness of the meat but also reduces shrinkage when it is cooked. All of our meat processing takes place in provincially licensed and inspected facilities.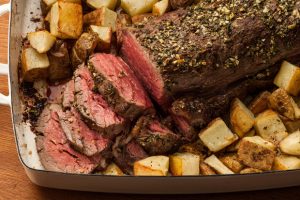 Our beef is available seasonally by order as a whole, half,  mixed quarter, or 20 pound variety pack. We also have available a hamburger package, which is 20 pounds of lean ground beef. The whole and half beef options can be  custom cut and wrapped to your specifications; we are happy to help customers who are new to the idea of custom cuts and help you decide what will work best for your family.
The 20 pound variety pack and 20 pound hamburger pack are both available as supply allows.
See the 2023 Beef Order Form or Contact Us for more details.